September in the North West can be hit or miss -- but the skiers at Albert Dyck Park in Abbotsford, Vancouver Canada were definitely consistent. The prelims got off to a late start Friday morning. Will Asher put up a big 3@41, and Karina Nowlan was looking better this weekend managing to take 3@39 into the head-to-head as the top seed.

With a slightly different format this weekend than last, skiers needed to get a top 4 score to advance to the finals. The top 4 skiers from the first round were not required to ski a second time, although some did on their option. In a couple different cases, we saw a tie for the 4th and final spot, which did force a run-off. The first of such cases was Whitney McClintock and Breanne Wagner. Two Canadian women, both vying for Pro Tour title in their home country. Breanne had a rocky start to her 35 and managed only a couple buoys... Whitney skied up 35 off, and stroked a 38 off pass on the way back, securing a spot in the finals and showing the crowd that she brought her A-game this weekend.

There was also a run off between Marcus Brown and Thomas Moore. After a considerably long break, they boys had to come off the dock at 39 off. T-Mo went first and only managed 2 buoys. By this time of day the water had settled down to near-glass conditions, revealing a few rollers that had been knocked down by the wind. Marcus overcompensated, and skied inside 2 -- allowing Thomas Moore to advance to advance to the head-to-head for the first time this season.

The head to head was as exciting as ever. The men's bracket and women's bracket both saw some great matchups.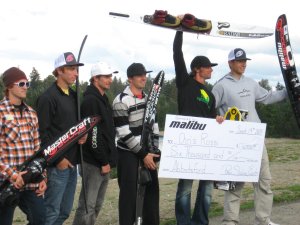 Chris Rossi skied against Chris Parrish (again!) in the semi-final round. This was the 5th time these two guys went up against each other this year... Parrish left the door open by barely skiing inside of 6@39. Rossi got around 6 and spiked the handle.

Will Asher beat out Thomas Moore by posting up a huge score of 4@41 in the tailwind... and we all thought Will would be in the final. He blew the tail at 1@39 and was done for the weekend. Thomas Degasperi had run his 39 pass, so he faced Rossi in the final.

Chris decided to send Degasperi out first. 35 and 38 were no trouble, but T-Gas got pretty deep at 3 and couldn't ski out of it. With only three turns between Rossi and a check for six thousand dollars, it was a no brainer who would win at this point.

On the women's side, an abbreviated field meant that only one woman would be cut before the head-to-head. Did you hear that girls? Getting through 35 off? You should come and ski the pro tour!! Your odds are pretty good to place in the money!




April Coble and Karen Truelove Kruger matched up head-to-head, again. This timeless battle has been going on for years between these two. April got all the way through 38 off before somehow making a submarine manuver inbetween the final turn and the exit gates. She lots the handle and left the door open for Karen to ski to the end of the lake... which she did. 6@38 for KT and she would ski against Whitney McClintock in the finals.

Whitney skied first, and left the door open a crack when she fell in between 4 and 5 at 38 off. The judges gave her 4@38, and Karen knew what she needed to run. A little bit of a slow start on her final pass was enough to hold her back - giving Whit her first Pro Tour victory to go along side her World Championship title for 2009.

We have inexclusive, high-definition video that we will make available to subscribers later this month -- we've got all the highlights from Abbotsford and from Diablo Shores. Stay tuned for more!