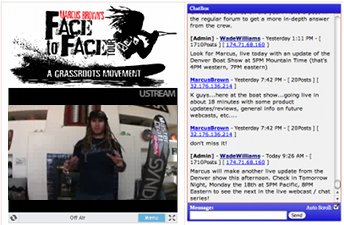 With the end of Monday Night Football, some of you might be at a loss for something to do tomorrow evening.

So Marcus Brown is going to be hosting the third in his series of Live Web Chats at 5PM Pacific, 8PM Eastern tomorrow Night, Monday January 18th.

Marcus is going to be heading up to Jackson Hole, Wyoming, where Jamie Beauchesne and Richard Ableson have been snow skiing for the past few weeks.

So it should be a great chat, both for slalom skiers, trick skiers, and just everyone in general. Take some time out of your monday evening to check it out!

Log in to the ChatBox to participate!