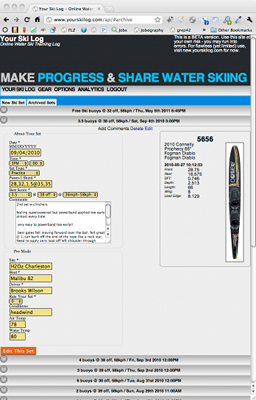 Your Ski Log is back with a vengeance. With a renewed interface, faster page loads, sleek transitions from page to page, use Your Ski Log to save information about every set you ski this summer.

The majority of the work that's been done over the past few months with the ski log involved completely refactoring the old log. I'll spare you the details on the technicals, but if the old ski log was a rat's nest of wires, the new one is a switchboard.

While the log is essentially unchanged in its function, the dramatic increase in organization opens up doors into the future. Later this summer you'll see the return of the Ski Log Rankings list, and eventually the return of an online water ski league. When the ski log was originally developed it had none of these things in mind - they evolved through suggestions from people just like you.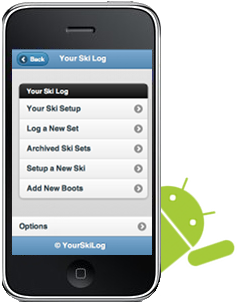 In addition to a great new desktop version of Your Ski Log, a new Mobile Application goes right along side. Simply hit www.yourskilog.com and log in from your mobile device to see the new ap. It's compatible with Apple's iPhone, all Android Devices, Blackberry 6, and Windows Phone 7. There's no sense in developing native applications for all these phones -- Your Ski Log works on all of these platforms simply by hitting the web address in your phone's browser. Save the address to your phone's home screen for easy access.